Secluded in a turquoise blue bay and embellished by the city lights, the Malecon is probably the best place to spend your days when you visit the city of La Paz.
This seaside hideaway is located in La Paz Baja California Sur, Mexico, and offers stunning coastal views, restaurants, and hotels, making it the perfect spot for a weekend getaway.
Whether you are a local or a tourist, La Paz Mexico Malecon is the perfect destination to enjoy incredible sunsets and sunrises you'll remember forever.
A Little bit of History
The La Paz Mexico Malecon was built in the late 1920s and only during the last couple of decades this place has become a popular tourist attraction.
To date, it is one of La Paz's most famous landmarks, with many locals referring to it as "the Malecon."
The Malecon structures were initially created by the Spanish settlers who arrived in Baja California during colonial times with the sole purpose of protecting the coast from the pounding of the waves.
Since then, they've spread all over Mexico.
Where is the Malecon?
To get to the Malecon, you'll first need to fly into La Paz Baja California Sur Airport. From there, it's a relatively short taxi ride to the Malecon – about 20 minutes.
If you're looking for a more scenic route, you can also drive up from Los Cabos. The Malecon is located right on the coastal side of the peninsula, and it's probably something different you can do if you are a Cabo traveler.
Things to Do at The Malecon
I'm sure there are plenty of things to do in the Baja Sur, but the Malecon of La Paz is probably one of the most emblematic places in this beautiful travel destination.
If you are interested in exploring a bit further, you can look at this La Paz guide by clicking here.
On this quick list, I'll tell you some of the things you can do here that are worthy of your IG repertoire— after all, who better than a genuine local to guide you?
Stroll Along the Malecon
The Malecon is perfect for taking in the sights and sounds of La Paz on foot.
What's the best time of the day to stroll? In my opinion, evenings.
Why? Because the weather is fantastically fresher and businesses start to glow— most shops and restaurants are not open during the mornings or afternoons.
But if you are looking for a more vibrant experience, you'll prefer visiting the Malecon at night.
It's simply a whole new atmosphere with its restaurants and bars lit up, live music playing, and special events with street performers entertaining people in the Malecon.
Watch a Sunset or Sunrise
For people that are used to witnessing a beautiful sunset or sunrise, this is probably not a top-list activity. But trust me, like in most coastal areas in Mexico, sunsets and sunrises here are stunning.
Turns out that this location can give you an exquisite mixture of pink skies with purple, yellow, and blue tones worthy of a beautiful picture on the wall.
If you can, make time to see one or both of these natural phenomena during your stay in La Paz!
Walk on the Beach
After dinner, you can take a walk on the beach and enjoy the incredible views. I remember many times I actually enjoyed a morning walk at the Malecon beach in La Paz— and I think my dog even more!
To be honest, I think the most pleasant thing I love doing in La Paz is staring at the sailboats resting on the Malecon blue seashore. I believe it brings me peace as nothing else can.
But besides the calming scenery and views you'll witness, the sand here is soft under your feet, and waves crashing against the shore are soothing, like a subtle reminder of where you are: The Peace (English translation for La Paz).
Trust me, you'll feel like you're in paradise.
Swim with Whale sharks
And if the first activities on this list were not enough, prepare to have an extraordinary experience, right here, in the La Paz Mexico Malecon.
These gentle giants wander around this coastline from October to March every year as they make their way up the Baja California Peninsula on their annual migration route.
Either you are looking for a little fun or nature adventures, swimming next to the largest fish in the world is definitely a one-in-a-life-time experience!
If you are interested in learning more about this activity, you can check out our latest whale shark guide here.
Paddleboard sessions
If you are a fitness lover, this is the perfect activity for you. Rent a paddle gear and row in the peaceful waters of La Paz bay.
This is a perfect moment to meditate and admire nature, and if you feel like it, you can jump from the paddleboard and have a refreshing swim before coming back to the city.
Don't forget to put your sunscreen on and avoid this activity between 12:00 and 16:00, and you'll be fine.
Take a Picture at El Malecon
There is nothing much to say here. La Paz Mexico Malecon is an iconic part of this city, and it's a must-have IG picture really. Make sure to snap a selfie before you leave!
Visit the Museum
Recently inaugurated, El Museo de Arte de Baja California Sur— or BCS Art Museum, is a picturesque place to visit, where you can admire Mexican art and, why not? A little bit of history too.
All you need to do is walk a couple of blocks up, and you'll find the Museum in front of the city Cathedral. Don't forget to take a cheeky pic at the cute museum lanterns!
Visit the Cathedral
If you visit La Paz, then visiting the Cathedral is a must-do.
Compared to the big majestic cathedrals in Europe, this is more like a cute little chapel you can walk in and admire this beautifully restored building.
Like in any other city, the La Paz Cathedral— or Nuestra Señora de La Paz as officially named, has hosted thousands of Mexican weddings and christenings over the decades.
That's why this place holds a sentimental root among the locals.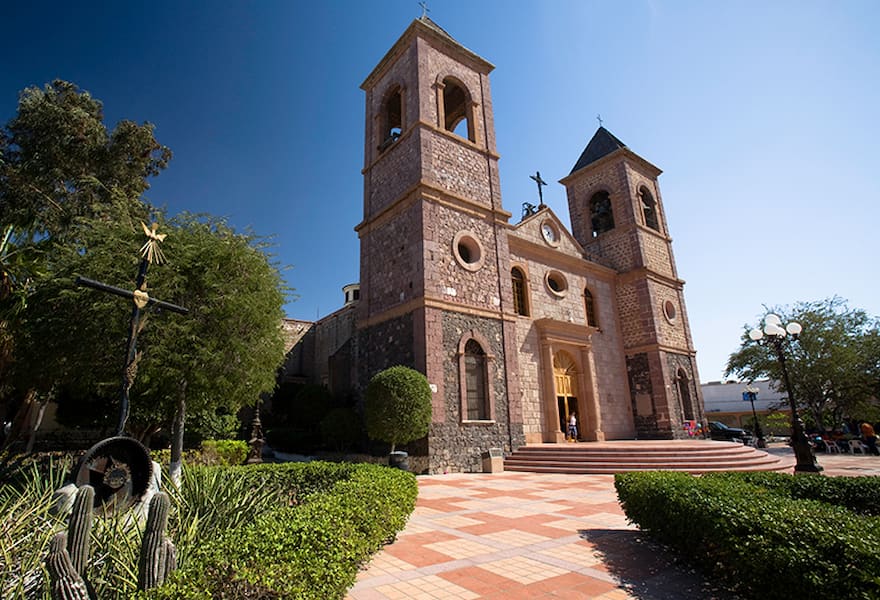 Shop at the Local Markets
The markets near the Malecon are a great place to find unique souvenirs in La Baja Sur. In La Paz you can find plenty of places to buy cute local items, but perhaps the most iconic souvenir shop is La Casa del Artesano Sudcaliforniano.
Yep, that's a long name for a shop. Translated to English would be something like The Sudcalifornian Artesan's House. Not that bad, right?
This cute market offers locally made crafts like photo frames made of cactus, stone necklaces, pearl jewelry, soaps, candles, wood figures, etc.
If you are into more modern gift shops, you might enjoy visiting Doce Cuarenta, a coffee shop that sells great modern souvenirs.
Have a cheeky drink with the best view in town
If you're looking for a place to have a drink with a fantastic view, this is "the place."
After a long day full of activities and tours, La Paz bars at the Malecon are eager to have you around and offer you a wide variety of refreshing beers and cocktails at the Sea of Cortez.
Among my favorite places are Cervecería La Mexico, Harker Board CO, and Baja Bonita. To date, I haven't found better places than these!
Eat at the La Paz Malecon
Here in this beautiful coastal town, you'll find a wide variety of restaurants to choose from. Whether you're in the mood for seafood, Mexican food, or international cuisine, you'll be able to find something to your taste at the Malecon.
Some of our favorites include:
Enjoy our Beautiful Broadwalk!
If you come to La Paz, you can be sure the Malecon is a great place to go if you're looking for a relaxing day or evening.
Here you'll find plenty of options for activities and dining out in the area, as well as some pretty amazing sunsets— in my opinion, this is a unique view in Mexico.
Whether you are looking for a typical brunch day or something more adventurous like a whale shark tour, the Malecon is the place to be.
I hope this article is inviting enough to make you sit outside and enjoy the Southcalifornian breeze at La Paz Mexico Malecon while sipping on your favorite cocktail.
And if you are a passionate foodie, please don't hesitate to come and try one of the restaurant recommendations we suggested in this post. I'm sure any option will please your taste buds!
Fall in love with stunning views of the Sea of Cortez!